Regular price
$57.00 USD
Sale price
$41.00 USD
Unit price
per
Sale
Sold out
A latte for your gut health, to support and improve the health and diversity of your gut microbiome and promote positive wellbeing*
Nourish your gut and wellbeing with our incredibly delicious caramel latte. We chose to supercharge our latte with 2 BILLION LactoSpore® Probiotics per serve, because studies have shown that when present at this amount, Probiotic.Bacillus Coagulans MTCC 5856 (LactoSpore®) aids, supports and improves the health and diversity of your gut microbiome, reducing discomfort including bloating, and also promotes mental wellbeing and a healthy positive mood. 
| Vegan | Gluten Free | Dairy Free | Non GMO | No Soy | No Fillers to bulk up the product like coconut milk powder
LactoSpore® is a registered trademark of Sabinsa Corporation.
Benefits

LactoSpore® Probiotics - Healthy Gut Flora, Reduce Bloating, Mental Wellbeing

Inulin - Prebiotics, Healthy Digestion, Healthy Gut

Maca - Combat Stress, Sexy Time, Boost Energy
Serving Suggestions

Each packet of our Gut Balance & Debloat Caramel Latte mix can make between 15 (if you use 1 tspn) to 30 (if you use 2 tspns) cups of delicious hot chocolate. That's as low as 93 cents per cup!

To prepare:

Add 1 to 2 teaspoons to 1 cup (200-250ml) of cold or warm milk. Sweeten to your liking and blend it all together on high speed. We recommend using hand-held blenders for a smooth and creamy texture.

If you're feeling adventurous, our Gut Balance & Debloat Caramel Latte also pairs well with coffee or can be added to your favorite smoothie or oats. Enjoy 1 to 2 servings daily.

For the best experience, we recommend using barista-style milk such as Oatley Organic, Califa Farms, or Bonsoy. These milks complement our hot chocolate perfectly.

Worried about calories? Don't be! Each serving contains only 18 calories. Please note we have made our Gut Balance & Debloat Caramel Latte sweeter than our Anti-Inflammatory Hot Chocolate & it is perfect for those with a sweet tooth (without the icky fake after-taste experienced with most sugar-free lattes).
Ingredients

Organic Roasted Carob Powder, Organic Inulin (Jerusalem Artichoke), Natural Flavour, Organic Lucuma Fruit Powder, Organic Raw Cacao Powder, Organic Maca Root Powder, Himalayan Rock Salt, Lactospore ® (Bacillus coagulans) Probiotic, Monk Fruit Extract, Organic Cinnamon, Vanilla Bean Extract.

Manufactured on equipment that also handles Milk, Soy, Egg, Nut, Fish and Sesame ingredients. If under 15 years of age, pregnant, considering getting pregnant, breastfeeding, or have any other health concerns, please consult with your healthcare provider before adding our activated lattes to your diet.

 
The Science

Research suggests that Curcumin has multiple health benefits:

Stimulates the body's natural painkillers, providing relief for mild joint pain, menstrual cramps and pains.*

Helps in the management of oxidative & inflammatory conditions, metabolic syndrome, arthritis & anxiety.*

Helps in the management of exercise-induced inflammation & muscle soreness, enhancing recovery and performance in active people.*
Curcumin in the gut favours the growth of beneficial bacteria strains such as Bifidobacteria & Lactobacilli, whilst reducing pathogenic strains.*

May help reduce inflammation & have positive benefits on endometriosis. 

A

 

2012 study

 

on endometrial cells with endometriosis showed an effect on reducing the amount of endometriotic cells and also the amount of estrogen (E2) being produced by these cells, critical as endometriosis is an estrogen-dependent condition. A

 

2017 review

 

of the scientific literature revealed that curcumin potentially has a number of different pathways that can act upon endometriosis from inflammation, reducing vascularisation of the tissue, stopping these endometriosis cells proliferating. Unfortunately, all these studies have been in cells or mice only and not yet in humans as they have been trying to understand and measure the mechanisms of action.*

For trials & scientific studies please refer to the following:

Curcumin: A Review of its' Effects on Human Health

The Association of Inflammation on Premenstrual Symptoms

Curcumin Attenuates Severity of Premenstrual Syndrome Symptoms

Curcumin, Gut Microbiota & Neuroprotection
Shipping

Shipping pricing is a flat rate of $9 Australia-Wide with free standard shipping if your order more than $75.

We use Australia Post for our shipping. All orders received by 10am are shipped on the same day (Monday-Friday).

We also offer express shipping for urgent deliveries. Please note that Express Shipping is reliant on the Australia Post network, and there may be delays.

Learn more about shipping here.
View full details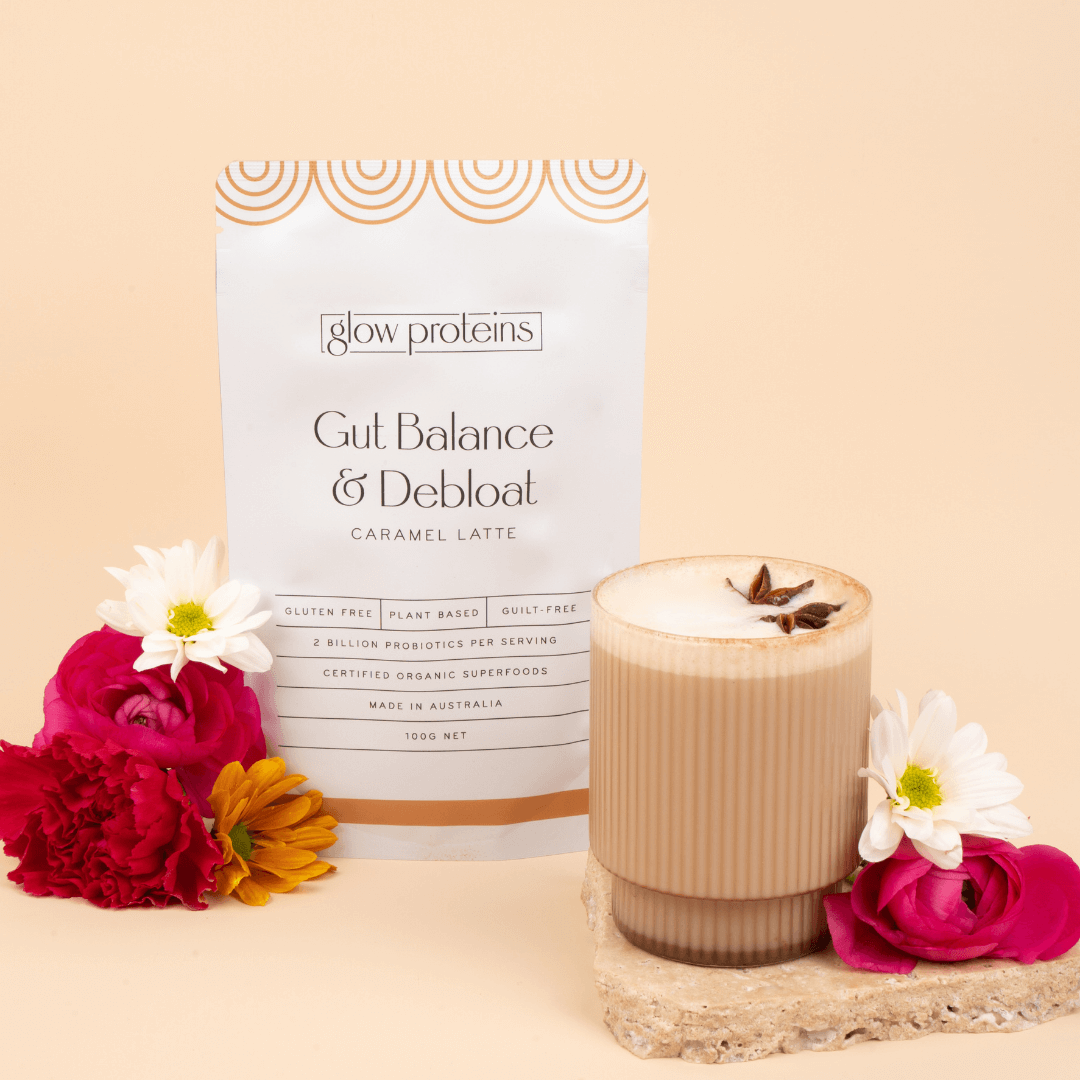 So delicious!
This one is so tasty you'll be making a second cup! Great alternative to coffee for a hot beverage.
We are so happy to hear that you are loving the taste of our Caramel Latte Jessica - it is one of our favs too!
The best Product
This has to be the best product l take it in the morning before or after breakfast and before dinner l no longer feel bloated and also the lovely flavor is great. I am so thankfull to be have come across this site.
Thank you so much for your amazing review for our Gut Balance Caramel Latte Paul. We are so happy to hear you are loving the flavour and it has been helping with your bloating.
ABSOLUTE TREAT!
OMG!! I couldn't wait to try the flavours when I got home and I cannot say enough good things about them! I made the perfect decision to just buy them all cause they're soo soo yummy!! All the flavours are perfectly balanced and unique in their own way!
Can't believe something so good for you can taste so delicious 😍😍😍
They're my perfect treat to both start and end the day on a sweet note!
Hi Hena, thank you so much for your amazing review! We are so happy you are enjoying all our latte flavours and that they have become part of your daily ritual. You have made our day x
Tastes great!
I've had this for just over 2 weeks and it's been a great addition to my morning routine! Tastes great and helps with my bloating!
Thank you for leaving us such an amazing review Elly! We are so happy you are enjoying the taste of our Caramel Latte and it has become part of your morning routine x
Pretty great stuff!!
I have only been using this for a few days but I really do think I feel a difference. My tummy doesn't feel so bloated or feel so sick after eating things I shouldn't. It helps my tummy feel calmer. I've got a bit of IBS and when I stress or get anxious I tend to react more to foods and my sensitivities so this has been helping ease things a bit. I can't have things like coffee, tea, chai lattes etc as they really upset my stomach so I'm pleased that so far I haven't reacted to this but it's helped! I think everyone should give it a try and see if it helps any symptoms :)
Hi Tanjil, thank you for leaving us such an amazing review. You have made our day! It makes us so happy to hear that you are enjoying our Caramel Latte and it is helping your tummy feel calmer. Please keep us updated on how you go x