Regular price
$57.00 USD
Sale price
$41.00 USD
Unit price
per
Sale
Sold out
Studies show that Curcumin supports PMS, Cramps, Joint Pain, Mood, Libido, Skin + Gut Health*
Activated with 250mg of Curcuminoids (equivalent to 246mg of Curcumin) per serve (2 tspns).
Curcumin, the main active ingredient found in Turmeric, has been found to support healthy inflammatory response and encourage the growth of good gut bacteria. Studies show that Curcumin also supports the liver detoxification process + increases collagen synthesis to help promote healthy glowing skin.*
Black pepper is an ingredient in Anti-Inflammatory Hot Chocolate because it is high in Piperine –  a natural substance that dramatically improves the bodies absorption of Curcumin.
Vegan | Gluten Free | Dairy Free | Non GMO | No Soy | No Fillers to bulk up the product like coconut milk powder
Benefits

Curcumin: Reduce Inflammation, Immunity Hero, Fight Free Radicals

Cacao: Feel Good, Healthy Heart, Satisfy Chocolate Cravings

Maca: Combat Stress, Sexy Time, Boost Energy
Serving Suggestions

Each packet of our Anti-Inflammatory Hot Chocolate mix can make between 15 (if you use 1 tspn) to 30 (if you use 2 tspns) cups of delicious hot chocolate. That's as low as 93 cents per cup!

To prepare:

Add 1 to 2 teaspoons to 1 cup (200-250ml) of cold or warm milk. Sweeten to your liking and blend it all together on high speed. We recommend using hand-held blenders for a smooth and creamy texture.

If you're feeling adventurous, our Anti-Inflammatory Hot Chocolate also pairs well with coffee or can be added to your favorite smoothie or oats. Enjoy 1 to 2 servings daily.

For the best experience, we recommend using barista-style milk such as Oatley Organic, Califa Farms, or Bonsoy. These milks complement our hot chocolate perfectly.

Worried about calories? Don't be! Each serving contains only 20 calories. However, it's important to note that if you prefer a sweeter taste, our Caramel & Vanilla Chai latte is sweeter than our Hot Chocolate. Choose according to your preference and enjoy the rich flavours of our beverages.
Ingredients

Organic Raw Cacao Powder, Organic Roasted Carob Powder, Organic Maca Root Powder, Organic Lucuma Fruit Powder, Natural Flavours, Curcumin (Turmeric Extract) (4%), Vanilla Bean Extract, Organic Cinnamon, Himalayan Rock Salt, Monk Fruit Extract, Sunflower Lecithin, Organic Ground Black Pepper. 

Manufactured on equipment that also handles milk, soy, egg, nut, fish and sesame ingredients.

 

If under 15 years of age, pregnant, considering getting pregnant, breastfeeding, or have any other health concerns, please consult with your healthcare provider before adding our activated lattes to your diet.
The Science

Research suggests that Curcumin has multiple health benefits:

Stimulates the body's natural painkillers, providing relief for mild joint pain, menstrual cramps and pains.*

Helps in the management of oxidative & inflammatory conditions, metabolic syndrome, arthritis & anxiety.*

Helps in the management of exercise-induced inflammation & muscle soreness, enhancing recovery and performance in active people.*
Curcumin in the gut favours the growth of beneficial bacteria strains such as Bifidobacteria & Lactobacilli, whilst reducing pathogenic strains.*

May help reduce inflammation & have positive benefits on endometriosis. 

A

 

2012 study

 

on endometrial cells with endometriosis showed an effect on reducing the amount of endometriotic cells and also the amount of estrogen (E2) being produced by these cells, critical as endometriosis is an estrogen-dependent condition. A

 

2017 review

 

of the scientific literature revealed that curcumin potentially has a number of different pathways that can act upon endometriosis from inflammation, reducing vascularisation of the tissue, stopping these endometriosis cells proliferating. Unfortunately, all these studies have been in cells or mice only and not yet in humans as they have been trying to understand and measure the mechanisms of action.*

For trials & scientific studies please refer to the following:

Curcumin: A Review of its' Effects on Human Health

The Association of Inflammation on Premenstrual Symptoms

Curcumin Attenuates Severity of Premenstrual Syndrome Symptoms

Curcumin, Gut Microbiota & Neuroprotection
Shipping

Shipping pricing is a flat rate of $9 Australia-Wide with free standard shipping if your order more than $75.

We use Australia Post for our shipping. All orders received by 10am are shipped on the same day (Monday-Friday).

We also offer express shipping for urgent deliveries. Please note that Express Shipping is reliant on the Australia Post network, and there may be delays.

Learn more about shipping here.
View full details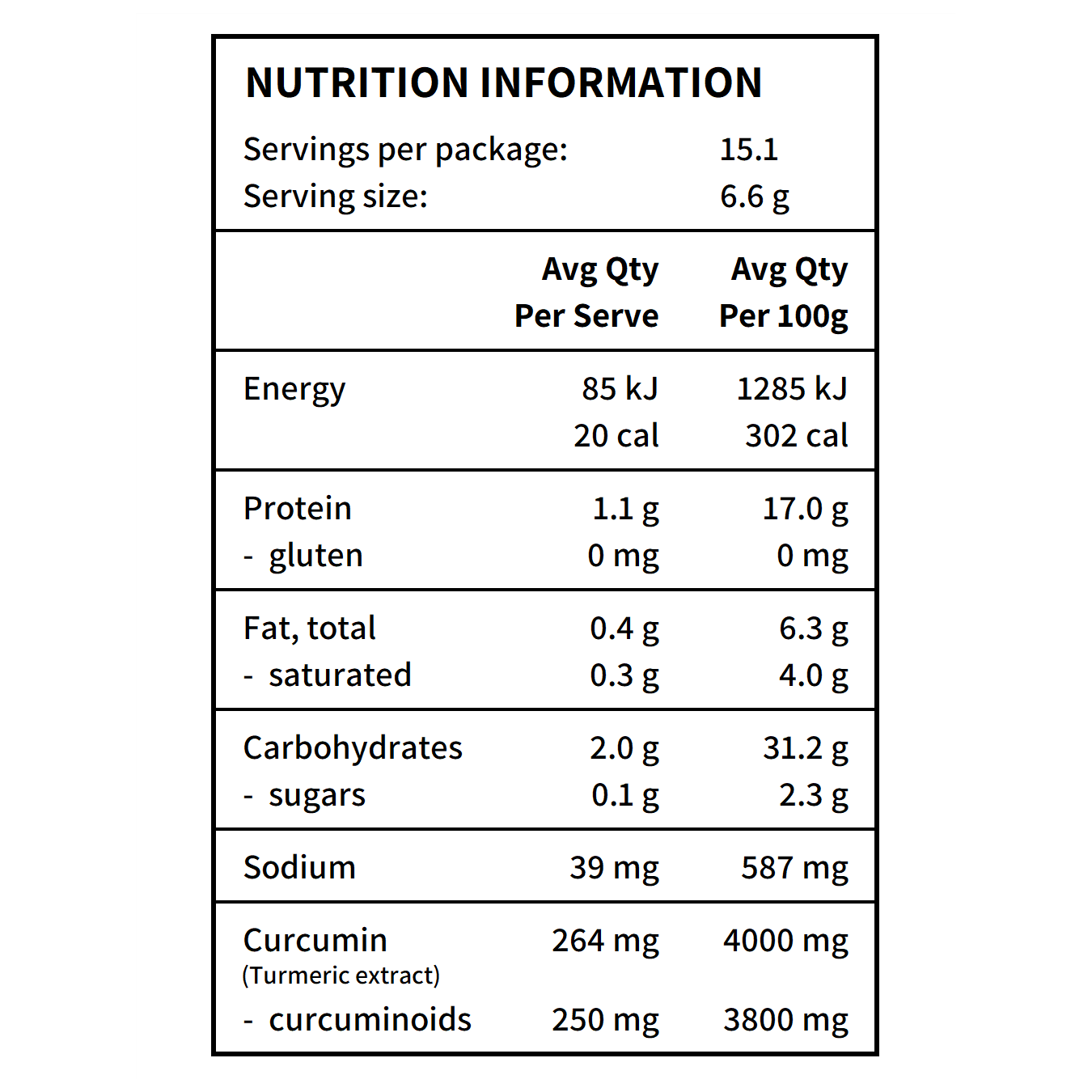 Great alternative to coffee!
I love this product, so tasty and a great replacement for my morning coffee. Add a little honey and whip up with your milk of choice.
Thank you for your amazing review Jessica! We are so happy you are enjoying the flavour of our Anti-Inflammatory Hot Chocolate and that you are finding it to be a good coffee replacement.
Perfect on a cold night
I've swapped out my regular evening hot chocolate for this instead and have been much happier in the tummy
Thank you for your amazing review Natassia - you have made our day! We are so happy you are enjoying the flavour of our Anti-Inflammatory Hot Chocolate.
A great alternative
Have used this product a few times and have found it to be a great alternative when I'm craving something sweet after dinner! The anti inflammatory properties are the reasons I purchased and the taste is great as well. Will be buying again
Thank you for your amazing review. We are so happy you are enjoying the flavour of our Anti-Inflammatory Hot Chocolate and finding it the perfect go-to after dinner.
Thank you for leaving us such an amazing review! We are so happy you are enjoying the flavour of our Anti-Inflammatory Hot Chocolate.
Delicious & It works
delicious hot chocolate and the health properties really do help
We are so happy to hear you are enjoying our Hot Chocolate Barbie! Thank you for leaving us a review x