Regular price
$0.00 USD
Sale price
$24.00 USD
Unit price
per
Sale
Sold out
The Mr Versatile of Bone Broth  
Our Natural Bone Broth Body Glue™ is made using just 2 ingredients -  100% grass-fed Australian beef bones and naturally evaporated sea salt, making it easy to digest and perfect for those with sensitive stomachs or allergies. 
Natural has a mild / neutral flavour that makes it easy to add to almost any dish - enhancing existing flavour without changing it.  It's a great choice for fussy eaters or if you're looking to boost the nutrients in family meals undetected.
Flavour profile - intentionally bare to nutrient boost stocks, soups or make an easy DIY broth. 
390g jar | 39 serves | Makes 9.75L
Benefits

10 x More Collagen Amino Acids that are responsible for healing the gut lining (along with other connective tissues in our body) - Each gram of Gevity's Bone Broth Body Glue contains 10 x more collagen based amino acids than other market leading traditional bone broths (independent lab certified).

Supports Gut Health & Immunity - Strong immunity starts in the gut - Body Glue™️ Plays a vital role in reducing inflammation, aids with digestion.

All real ingredients  - Only the best ingredients to promote high performance, increased energy, boosted immunity and better overall health and wellbeing.

Maximum bioavailability!

 Made meat & vegetable free and never treated with heat so your body can easily absorb the nutrients.

It's so versatile

 - Sip, cook, create, blend, whiz, baste, drizzle, dip. Endless possibilities.
Serving Suggestions

Simply add to hot water for an instant gut healing beverage or stir through any meal to boost nutrient profile.  Natural Body Glue™ is a great choice for sensitive tummies and fussy eaters, boosting all your favourite meals and drinks undetected.

DIY flavour instant broth

Natural is intentionally bare and designed for self-flavouring. Just mix a spoonful into a mug of hot water and your favourite herbs and spices.

Boost your favourite meals

Stir through your favourite savoury (and even sweet!) recipes for a super dose of collagen.  Natural enhances existing flavours without changing them so fussy family members will never know.

Replace nutrient-void stocks

Natural can be used in place of stock in any recipe! Simply mix 1 teaspoon (or more to taste) to a cup of water for each cup of stock required.


Supercharge your smoothies

Add a teaspoon of Natural to your favourite smoothies to include the gut healing benefits of collagen rich bone broth.
Ingredients

Australian Grass-Fed Beef Bones, Naturally Evaporated Sea Salt*

 

 

*Naturally Evaporated Sea Salt is the traditional natural way to extract maximum nutrients from the bones whilst also preserving the product. 
Shipping

Shipping pricing is a flat rate of $9 Australia-Wide with free shipping if your order more than $75.

We use Australia Post for our shipping. All orders received by 10am are shipped on the same day (Monday-Friday).

We also offer express shipping for urgent deliveries. Please note that Express Shipping is reliant on the Australia Post network, and there may be delays.

Learn more about shipping here.
FAQ

How much should I consume?
For maximum results, we recommend at least one cup a day (mixed with liquid) first thing in the morning on an empty stomach. For times when your body needs that extra boost, ramp up consumption to two or three cups - for instance, after training, travelling or overindulging. 

If you're embarking on a complete detox or healing journey, we find it really useful to have a cup with each meal throughout the day. 

Basically, you can't ever have too much Body Glue™, so consume as much as you like, whenever you like.

How do I store it?
Once opened, store your Body Glue™ in the fridge to ensure it retains the fresh flavour and nourishing properties we all love. 

The cold temperature of the fridge also solidifies the concentrate slightly, making it easier to scoop out of the jar.

How long will it last?
Each jar of Body Glue™ has a recommended use-by date sticker. Once opened and if stored correctly, the use-by date will remain accurate.

How is your bone broth made?
We use a top-secret recipe to make our bone broths the best on the market. This was created by continuously testing the finished product for the absolute maximum nutrient density possible.

Our bone broth recipe involves various cooking temperatures at specific times as well as other processes to purify and filter the bone broth to a point where the nutrients drawn out are so thick they literally stick to the spoon.

We don't add water, vegetables or fillers to thicken it. Every super thick and sticky teaspoon is ready to go to work exactly where your body needs it!

Is your bone broth dehydrated?
No – you will see nothing but thick, concentrated, unaltered broth in our jars. We NEVER dehydrate or de-structure our broth in any way.

Where do you source your bones?
We take pride in sourcing only the best quality bones from the healthiest cattle we can find.

Our products are proudly made from ONLY 100% Australian grass-fed and finished cattle from the beautiful Darling Downs region. All bones are also hormone and antibiotic-free.
View full details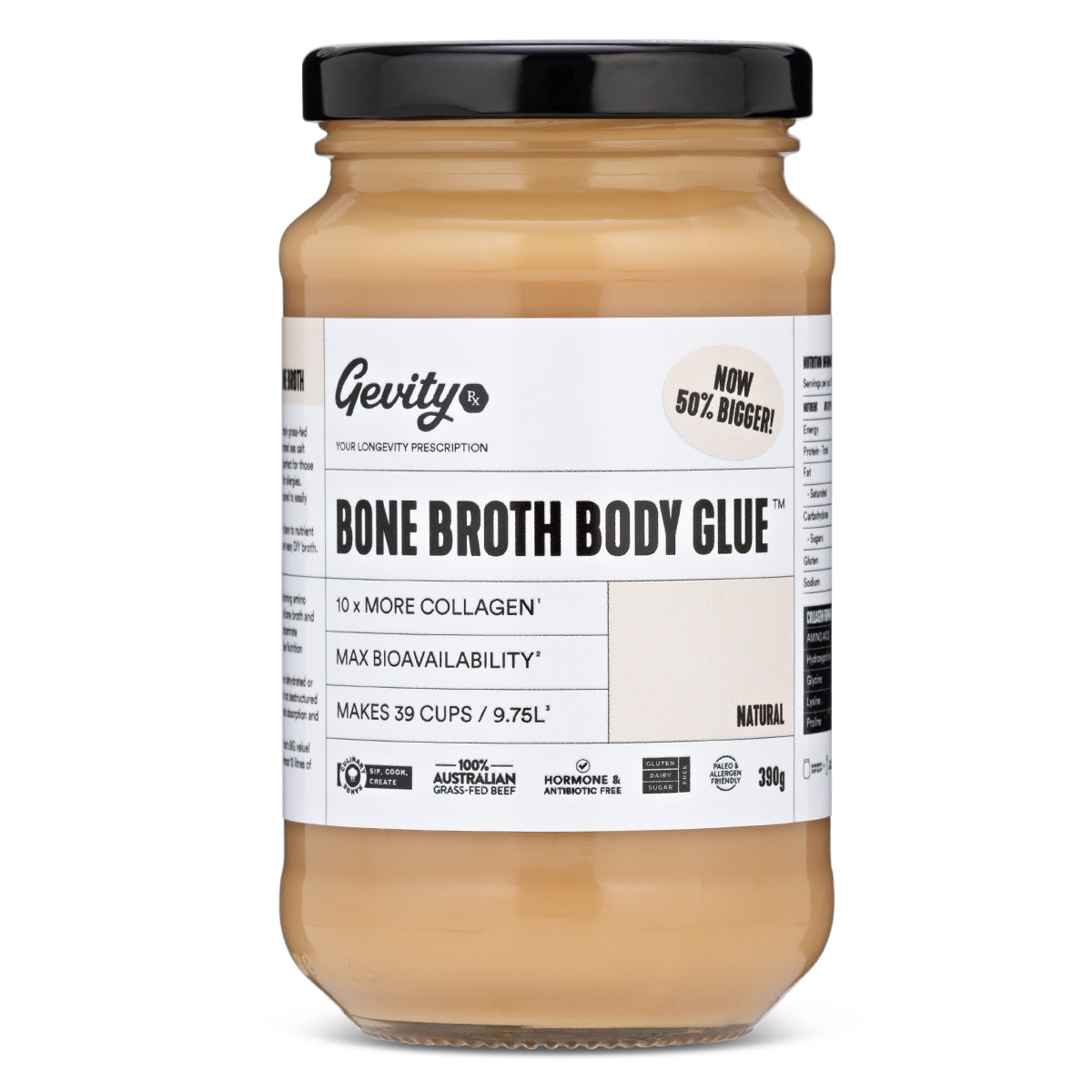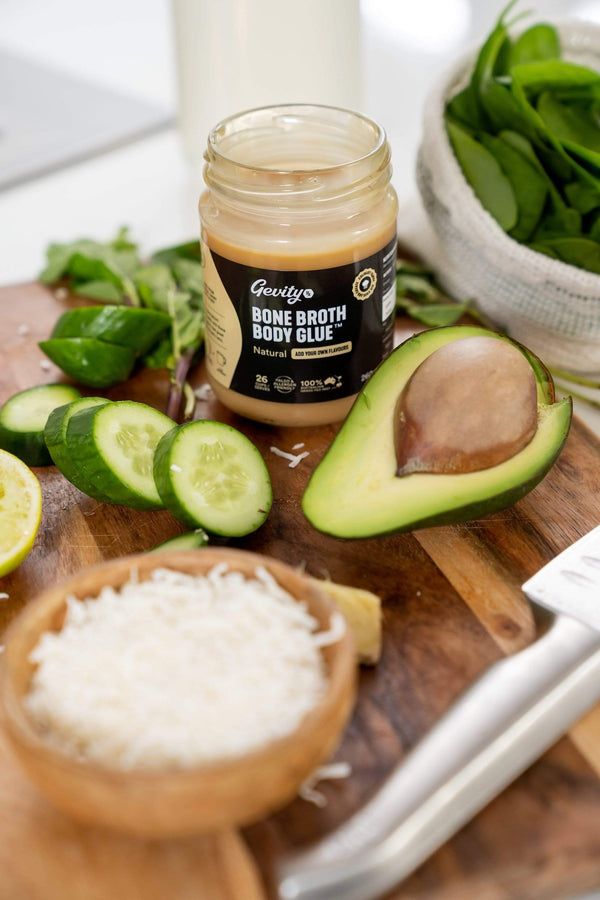 Sadly not for me
Taste a bit too strong for me, i would prefer a more subtle bone broth smell.
Thank you for leaving us a review for our Gevity AM and Calm & Focus Bundle Pack Diana.
We are so happy to hear you are enjoying the flavour of our Vanilla Chai Latte and finding it to be a good coffee replacement.
Thank you for your feedback re our Gevity AM Bone Broth too. If you have some left over you can try and use it in some cooking recipes so you can still benefit from the goodness. Please reply back to my email if you are interested in this and I can send some recipe links for you to try. Thanks Diana!
Bone Broth
This is a amazing product l have this every morning before breakfast and it cures the bloating, when l have this in hot water with a splash of cold water it is yummy and it seems to work all day l feel great l am so thankful that l have found this website and this product.
We are so happy to hear that you are enjoying our Gevity Bone Broth Paul and finding it delicious! We are finding it to be the perfect coffee replacement too. Thank you for your kind words about our website Paul - we are grateful you found us too!
something new for me
Full of flavour, I have been drinking bone brooth body glue as an alternative hot drink to coffee- so hopefully reducing my coffe intake and inmproving my gut health. great to have with lunch on a cold winters day. I have also added to home made soups and other dishes in place of stock , works well. I am very happy with it - If possible I would like to know if fodmap certified.
Thank you for leaving us such an amazing review Lyn for both our Gut Prebiotic Fibre & Gevity AM Bone Broth - we are so grateful!
Please let us know how you go increasing the dosage of our Gut Prebiotics. We normally ask our customers to start slowly as sometimes, based on individual cases, it may cause gastrointestinal upset if introduced suddenly into your diet.
Isn't the AM Gevity Broth amazing and so versatile? We too have it as a coffee replacement in the mornings. I am so happy to hear you are enjoying it too. Our Gevity Bone Broth is not certified, however suitability has been assessed by our Naturopath for low Fodmap.
Please do keep us posted on how you go Lyn:)