Regular price
$19.00 USD
Sale price
$13.00 USD
Unit price
per
Sale
Sold out
The ultimate coffee replacement, or coffee/smoothie booster.

A latte for your hormones, to enhance your body's resilience to mental and physical stress, supporting cortisol levels whilst also improving total sleep time + quality*

Activated with 300mg of KSM-66® Ashwagandha Root Extract per serve (2 tspns) - the highest concentration & bioavailable, full spectrum ashwagandha root extract available in the world. 
Clinically studied Ashwagandha is known to regulate hormones & your immune system, help your body manage stress (bye bye stress induced inflammation and poor gut health), aid the metabolism of serotonin and dopamine, increase energy levels and improve overall concentration, & sleep quality.
| Caffeine Free | Vegan | Gluten Free | Dairy Free | Non GMO | No Soy | No Fillers to bulk up the product like coconut milk powder
KSM-66® is a registered trademark of Ixoreal Biomed Inc.
Benefits

KSM-66® Ashwagandha: Combat Stress, Calm, Focused Energy, Happy Hormones, Improve Sleep Quality

Inulin: Prebiotics, Healthy Digestion, Healthy Gut

Maca: Combat Stress, Sexy Time, Boost Energy
Serving Suggestions

Each packet of our Calm & Focus Vanilla Chai Latte mix can make between 15 (if you use 1 tspn) to 30 (if you use 2 tspns) cups of delicious hot chocolate. That's as low as 93 cents per cup!

To prepare:

Add 1 to 2 teaspoons to 1 cup (200-250ml) of cold or warm milk. Sweeten to your liking and blend it all together on high speed. We recommend using hand-held blenders for a smooth and creamy texture.

If you're feeling adventurous, our Calm & Focus Vanilla Chai Latte also pairs well with coffee or can be added to your favorite smoothie or oats. Enjoy 1 to 2 servings daily.

For the best experience, we recommend using barista-style milk such as Oatley Organic, Califa Farms, or Bonsoy. These milks complement our hot chocolate perfectly.

Worried about calories? Don't be! Each serving contains only 18 calories. Please note we have made our Calm & Focus Vanilla Chai Latte sweeter than our Anti-Inflammatory Hot Chocolate & it is perfect for those with a sweet tooth (without the icky fake after-taste experienced with most sugar-free lattes).
Ingredients

Organic Roasted Carob Powder, Organic Inulin (Jerusalem Artichoke), Natural Flavour, Organic Lucuma Fruit Powder, Organic Maca Root Powder, Monk Fruit Extract, KSM-66® Ashwagandha Root Extract, Chai Blend (5.5%) (Organic Cinnamon, Vanilla Bean Extract, Organic Clove Powder, Nutmeg Powder, All Spice Powder, Organic Cardamom Powder, Black Pepper). 

Manufactured on equipment that also handles Milk, Soy, Egg, Nut, Fish and Sesame ingredients. I

f under 15 years of age, pregnant, considering getting pregnant, breastfeeding, or have any other health concerns, please consult with your healthcare provider before adding our activated lattes to your diet.
The Science

Science-backed

KSM-66® is an ashwagandha extract made by Ixoreal Biomed, created via a process that took 14 years of R&D to develop and refine.

After 8 weeks of clinical study, of adults taking 300mg of KSM-66® Ashwagandha twice daily researchers concluded that Ashwagandha root extract:

Improves an individual's resistance towards stress and thereby improves self-assessed quality of life with a decrease of 27.9% of serum cortisol levels.

Can be useful for body-weight management in patients experiencing chronic stress.

Can be effective in improving immediate memory and general memory, and in improving executive function, attention and information processing speed without any side effects.

Is a natural compound with sleep-inducing potential, studies show a significantly shorter timer falling asleep, improving sleep quality, reducing nervousness with a significant calming effect. 

For more information and specifics relating to these published clinical trials please visit this website:
Shipping

Shipping pricing is a flat rate of $9 Australia-Wide with free standard shipping if your order more than $75.

We use Australia Post for our shipping. All orders received by 10am are shipped on the same day (Monday-Friday).

We also offer express shipping for urgent deliveries. Please note that Express Shipping is reliant on the Australia Post network, and there may be delays.

Learn more about shipping here.
View full details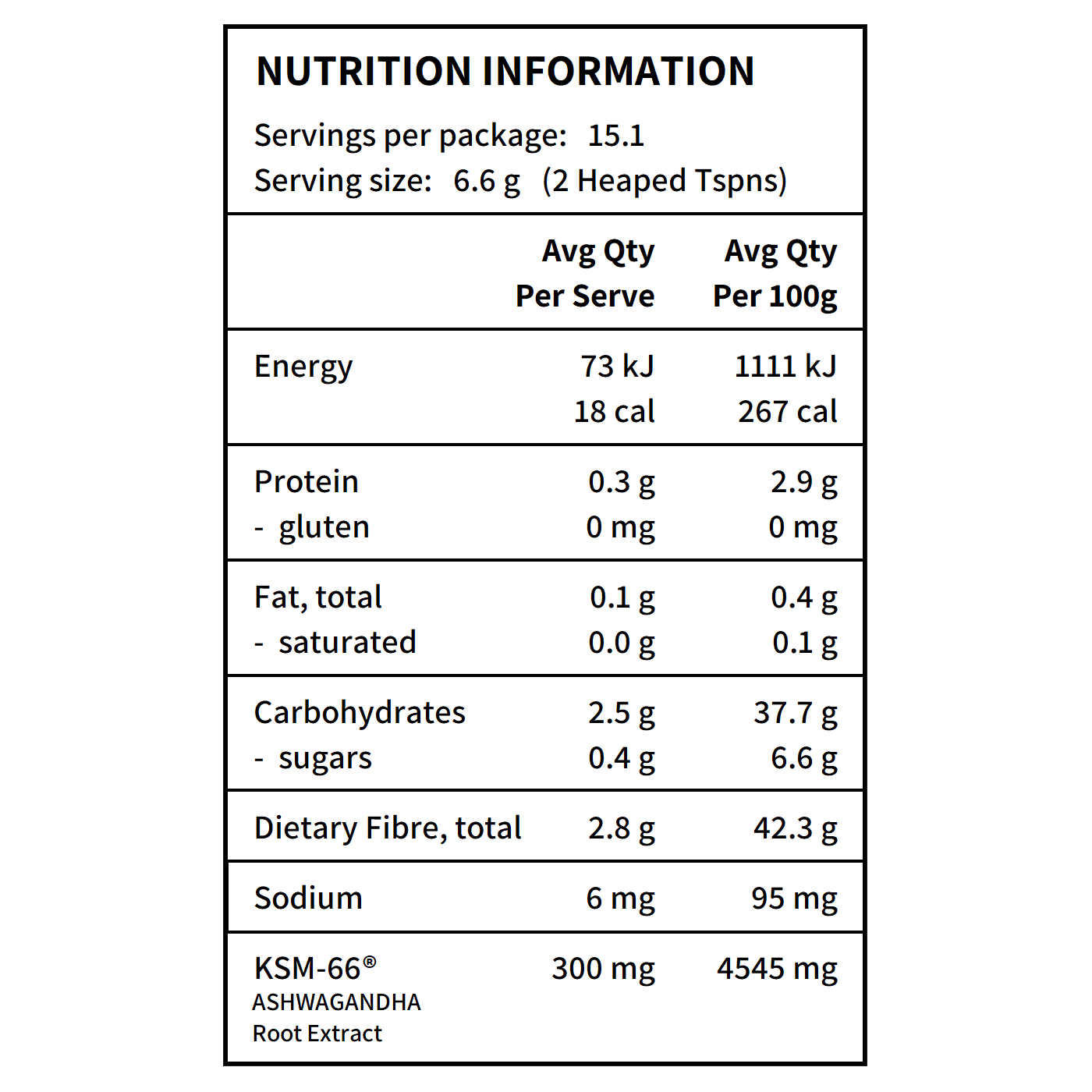 Delicious and nutritious
Beautiful, comforting cuppa! I've been having this after dinner each night and seem to be sleeping through the night in a lot deeper sleep. Also curbs my snacking habits after dinner.
Thank you for leaving us such an amazing review for our Calm & Focus Vanilla Chai Latte Jess. We are so happy to hear you are enjoying the flavour, and finding it has been helping with your sleep. This has made our day!
Deliciousness
Delicious, nice and comforting. So nice to have as coffee replacements
Thank you for leaving us a review for our Gevity AM and Calm & Focus Bundle Pack Diana.
We are so happy to hear you are enjoying the flavour of our Vanilla Chai Latte and finding it to be a good coffee replacement.
Thank you for your feedback re our Gevity AM Bone Broth too. If you have some left over you can try and use it in some cooking recipes so you can still benefit from the goodness. Please reply back to my email if you are interested in this and I can send some recipe links for you to try. Thanks Diana!
Delicious and very enjoyable
Not too sweet, just perfect.
Thank you for your amazing review Diana - you have made our day! We are so happy you are enjoying the flavour of our Calm & Focus Vanilla Chai latte.
Beyond delicious!
This powder creates the most delicious evening relaxing drink - either hot or cold. Wonderful flavour and can feel it literally relaxing every muscle in my body
Thank you for your amazing review Mel - you have made our day!. We are so happy you are enjoying all our Calm & Focus Vanilla Chai and finding it relaxes you before bed x
Love it!
Really enjoying the vanilla chai latte. Love that it's caffeine free so I can drink it in the afternoon or evening and it won't affect my sleep. It smells and tastes just like real chai and it's just enough sweet for me. Has quickly become a daily ritual I look forward to. I will repurchase.
Thank you for your glowing review PG – you have made our day! We are so happy you are enjoying our Vanilla Chai Latte and that it has become part of your daily ritual.